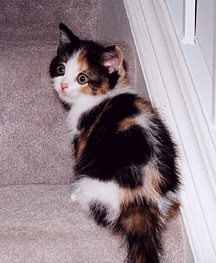 I wanted to post some pictures of my new kitty, so I called my daughter , the one with the fancy new digital camera. to come over and take some pictures. However, said pictures have yet to arrive, probably because she has more important things on her mind (like
impending
motherhood). So I searched the
cyber
-world and found a picture of a cat that looks very much like her, and that will have to suffice, for now.
These past few weeks have been shaky ones here at Squirrel Manor. The bursitis I was originally diagnosed with turned out to be a mild form of
MRSA
, which fortunately was handled by an "antibiotic cocktail"---which gave me another sort of infection. Then I came down with good ole fashioned bronchitis for the third time in so many months
Still, this time I take it all in stride, because now I have an affectionate, four month old kitten on my lap, and
everything's
just different somehow. Just think how much better the world might be if Kim
Jong
Il
had a calico lap kitty. Or Putin, or even Dick Cheney. A lap kitty seems to make the world a little softer, a little more pleasant,
dontcha
think? Or maybe it just makes me a little more pleasant. And when the real pictures come, I promise to post them all!